Want to know where to find the best classical guitar lessons online?
Check out our list!
Over 250,000 guitar-learners get our world-class guitar tips & tutorials sent straight to their inbox: Click here to join them
If you want to be a better guitarist click here for our guitar courses
In this free lesson you will learn…
The 9 best websites for classical guitar lessons
The advantages of trials and paid memberships
Our own personal recommendations
Why it's important to find accurate lessons online
Let's Find You Some Top Notch Classical Guitar Lessons Online!
There is nothing quite like the mellow and rich sound of a classical guitar.
If you're fortunate enough to be in possession of a classical guitar, or if you are planning on purchasing one, there are some things that you should know.
There are fundamental differences in the construction, feel, necessary posture, and sound between a classical guitar and a steel string acoustic guitar.
If you'd like to dive a little further into those differences before finding classical guitar lessons online, check out this lesson:
Classical vs. Acoustic Guitar: 10 Must-Know Differences & Things to Consider
Whether you're an absolute beginner on the guitar, an advanced level player, or just switching over to classical from acoustic or electric guitar, there are classical guitar lessons online to give you the guidance you need.
We've taken a tour through the vast array of resources available to find the ones we hope are the most useful to you!
Some of these lessons are absolutely free, and some have a free trial for a tuition-based course.
They are all created by people with a clear passion for the classical guitar and the desire to share their magic with you!
Learn the 12 EASIEST beginner chords with our famous FREE guide
✓  Stop struggling. Start making music.
✓  Learn 12 beginner-friendly versions of every chord.
✓  This is our most popular guide and it will improve your chord ability quickly.
Our Guitar Courses
Become a better guitarist: Click here to check out our guitar courses
Classical Guitar Lessons Online: Steve Higgs
If you are an absolute beginner to classical guitar and you want to make sure not to leave any of the basics out, your classical guitar lessons online should include a stop at Steve Higgs' YouTube channel.
Check out his Classical Guitar Lesson 1a. It covers everything you need to know the minute you pick up a classical guitar for the first time.
Unlike the devil-may-care world of rock and roll guitar, classical guitar demands attention to certain basics right off the bat like posture and hand placement.
Higgs has a series of no-nonsense and well-informed lessons that takes you through absolutely everything you need to know to launch a gratifying and beautiful career as a classical guitarist.
His YouTube channel includes beginning classical guitar lessons online as well as some demonstrations, covers, and tutorials.
Classical Guitar Lessons Online: MusicCollege TV
Another excellent find for classical guitar lessons online is MusicCollegeTV's classical guitar series.
These lessons, available on MusicCollege TV's YouTube channel, take you through a classical guitar basic instructional course from the very beginning, taught by Matt Nisbet.
Nisbet's first lesson even takes you through the decisions you have to make before sitting down with your new classical guitar.
This course is full of pointers and detailed instruction, and will have you playing your favorite classical guitar piece in no time.
Classical Guitar Lessons Online: National Guitar Academy
Did we mention that we also offer some high-quality classical guitar lessons online?
Our series of free guitar lessons aims to get you going in the right direction from the very start.
Our lesson on the differences between acoustic and classical guitar, linked above and also here, can help you figure out what it is you really want in a guitar.
Once you've selected your guitar, you can get started in Learn Classical Guitar in 7 Easy Steps.
We also have free online lessons in Spanish guitar, Flamenco techniques, easy classical guitar pieces for you to learn, and plenty of theory and fingerpicking lessons to take you wherever you'd like to go!
Classical Guitar Lessons Online: Artistworks
You can also find an excellent course of classical guitar lessons online through the Artistworks website.
The classical guitar course for Artistworks is taught by Jason Vieaux, a prize-winning guitarist and enthusiastic teacher.
Their course in classical guitar is not for beginners.
If you have some experience playing guitar and are starting out in classical guitar, you may want to check out some beginning lessons to get yourself up to speed.
For intermediate to advanced players however, the nice thing that this course offers is the opportunity to submit videos to the instructor for personal evaluation.
You'll pay for this course, but having personal feedback is an asset at any point in your guitar journey.
Pro-Tip: Free lessons are everywhere, and they are tremendously helpful to get you started playing classical guitar.
Classical guitar lessons online offer you a lot for no investment, and they can even help inform your decisions about what kind of teacher you eventually want to look for.
Classical Guitar Lessons Online: Classical Guitar Corner
For a nicely-balanced combination of free content and paid coursework, Classical Guitar Corner offers a good selection of classical guitar lessons online.
Classical Guitar Corner has a really appealing mix of videos.
They cover more than the basics to get you started playing, and even more than just a progression of technical lessons.
The website's free material covers things like specific song tutorials, overcoming stage fright, structuring practice, and general music theory.
They also have great discussions in blog entries about listening to music and general enjoyment of classical guitar.
It's a little like joining a classical guitar club!
Classical Guitar Lessons Online: LAGA
If you're like us, you have a real appreciation for a thorough beginning-to-end curriculum where one lesson is the foundation for the next.
When we learn any kind of music according to an established method, even though reaching plateaus and even feeling a little backslide is inevitable at some point, we can feel our progress in a really solid way.
This is the advantage that the LA Guitar Academy's lessons offer. There are seven levels to work through, and you are given a good idea of what you can expect to learn at every level.
LAGA also has some interesting additional material like available sheet music, a Flamenco section, and the option to purchase private video lessons.
Classical Guitar Lessons Online: Elite Guitarist Classical
What all of these classical guitar lessons online have in common is the offer of a structured path to learning classical guitar, so you really can't go wrong choosing any of them.
There is something to be said, however, for going to a website and being able in a few clicks to find exactly what you want to learn.
Eliteguitaristclassical.com is that site.
Whether you are a beginner, intermediate, or advanced player, you will find your starting point there quite easily.
You can also easily find tutorials for specific songs, learning tracks, and discussions with like-minded classical guitar players.
Two thumbs up!
Download our lead guitar cheat-sheet to make things easier
It can be disorientating for guitarists to understand which scales work with which keys.
With this in mind, we created a cheat-sheet; a key and scale-finder that you can use again and again.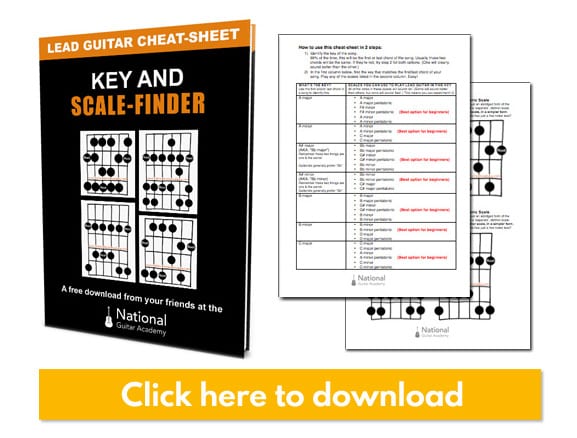 Our Guitar Courses
Become a better guitarist: Click here for our guitar courses
Classical Guitar Lessons Online: Darrell Braun Guitar
And sometimes you just want a friendly guy to help and encourage you along the way while restoring your faith that someday you will be able to match a fraction of his expertise.
We give you Darrell Braun's YouTube channel. Here, he's showing you how you can play three easy classical pieces. The tablature is included.
Braun's YouTube lessons are for the general guitar enthusiast, but his classical knowledge is well-renowned.
Braun is also a warm and accessible person, and we all like to like our teachers!
Classical Guitar Lessons Online: Classical Guitar Shed
Our final selection for your classical guitar lessons online is the ever-popular Classical Guitar Shed.
These guys are classical guitar enthusiasts, and the website is devoted to everything you might like to learn about the classical guitar at any level.
Apart from their beginning classical guitar lessons, they have tutorials, resources, tips, and discussions. Classical Guitar Shed aims to scratch every classical itch that you have.
This is a membership site, but they also have a pretty extensive classical guitar sheet music library, and you'll get a lot out of joining this online classical guitar community.
Getting the Most From Your Classical Guitar Lessons Online
The reason that single lessons and tutorials are included in this list along with complete courses is that which one you choose is secondary to which one you practice.
You'll find the most satisfaction in finding the lesson or course that appeals to you, that you relate to, and that you can convert into a practice plan that will propel you forward.
Whichever one you pick, we hope you're inspired to play beautifully!
Recommended Resources
If you enjoyed this free guide from the National Guitar Academy, you'll love our other content below!
What Type of Guitarist Are You?
Take our 60-second quiz & get your results: Take The Quiz
Our guitar courses
How do you want to improve as a guitarist? Click here to check out our guitar courses
Cool Guitar T-shirts
Look cooler! Check out our merch: Click here to see our merch store
Want free guitar tips and video lessons delivered to your inbox?
Join over 250,000 other guitar learners and subscribe to our guitar-tips-by-email service. (It's free.)
We'll send you a series of lessons that will move you to the next level of your guitar journey.
Learn how everything fits together quickly, easily and effectively. We share ninja tips (for instant fun!) but also timeless fundamentals that will deepen your understanding.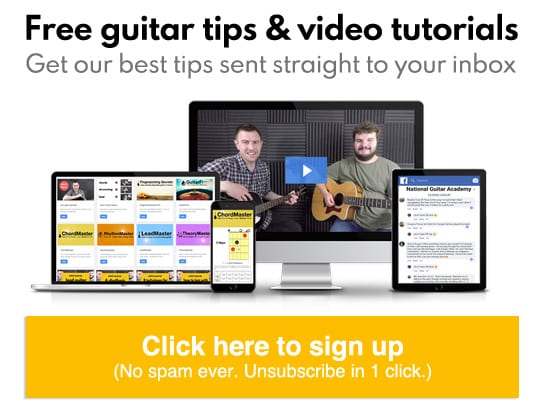 Popular Lessons
How To Learn Guitar: An 11-Step Programme For Beginners
How To Choose The Perfect Beginner Guitar
Guitar Notes Explained: A Guide For Beginners
Our guitar courses
Become a better guitarist: Click here to check out our guitar courses
More Cool Guitar Stuff
Learn about the National Guitar Academy: About Us
Visit our YouTube channel for fun guitar videos.
Join us on Facebook for daily guitar tips.
Listen to our Learn Guitar Podcast for rapid guitar progress.
Check out our free chord lessons.
Get our best guitar tips & videos
Get our best guitar tips & videos