"Drops of Jupiter" is a classic pop ballad from the early 2000's – let's learn how to play the chords!
Over 100,000 guitar-learners get our world-class guitar tips & tutorials sent straight to their inbox: Click here to join them
In this free lesson you will learn…
How to play "Drops Of Jupiter" by Train
The best way to approach barre chords
How to perform better transitions between chords
Why slower practice makes you a better guitarist
What makes this song so fun to play
Let's Have A Look At Train's Drops Of Jupiter Chords
If you had a radio in the early 2000's, chances are you heard "Drops of Jupiter" by Train on a pretty regular basis on most pop radio stations.
This band smashed the charts with this infectious rock ballad that would go on to be heavily covered by many musicians to come.
Train was one of those bands that knew how to make a hit happen, and happen it did.
This tune hit the top five section of the Billboard Top 100, and has kept its relevance quite well throughout the years since its release.
"Drops Of Jupiter" is a song that has a superb amount of melodic content in it that we're going to unpack in today's lesson.
Although the Drops of Jupiter chords are relatively easy on their own, it's going to take a bit of practice for us to unpack the overall structure of this song.
That's why we're here, though!
In this lesson, we're going to focus on the approach to each chord in order to get the most out of each of them.
We're also going to break down a smart approach to barre chords to help you get through the harder segments of the song.
First however, we're going to take a peek at the history behind this song that dates back twenty years now!
A Brief History On This Song
The year was 2001 and the internet was in its youth.
The Lord of The Rings series was at its peak, and Shrek 1 was still in theatres.
Rock bands were focusing on writing ballads and skinny jeans hadn't yet entirely taken hold of the rock scene.
In the midst of all of this, Train released "Drops of Jupiter" to much continuous success.
This song made a slow climb up the charts to the top 10 over 49 weeks, making it one of the slowest but most consistent climbs up the charts.
This song made its way onto radio stations all over, while it simultaneously got placed in a multitude of different movies and TV shows.
The Drops of Jupiter chords stayed on the Adult Contemporary charts for over 100 weeks, and continues to take its place on the Hot 100 Recurrents chart as well.
The song was a struggle for the band to write initially, but the singer Patrick Monahan cited that the inspiration came to him in a dream roughly a year after his mother passed away.
The lyrics "drops of Jupiter in her hair" reference the feeling that Monahan had that his mother had moved on to float through space, with drops of Jupiter in her hair.
It's a beautiful sentiment that truly sets a very spiritual stage for the song.
Now, let's take a closer look at all of the chords before we start focusing in.
Learn the 12 EASIEST beginner chords with our famous FREE guide
✓  Stop struggling. Start making music.
✓  Learn 12 beginner-friendly versions of every chord.
✓  This is our most popular guide and it will improve your chord ability quickly.
Let's Look At The Drops Of Jupiter Chords Up-Close
This song uses six chords, all of which are rather unique in their shapes.
Although some of these chords are fairly easy for beginner guitarists to play, a few of the Drops of Jupiter chords will prove to be a bit more complex.
Don't worry, though – we've got you covered in detail with this lesson.
Remember: Take it one chord at a time and take it slowly, and you'll find your way to mastery on each chord that much quicker.
Let's look at the first three chords that also serve as the intro for the song:
C major
G major
F major
C MAJOR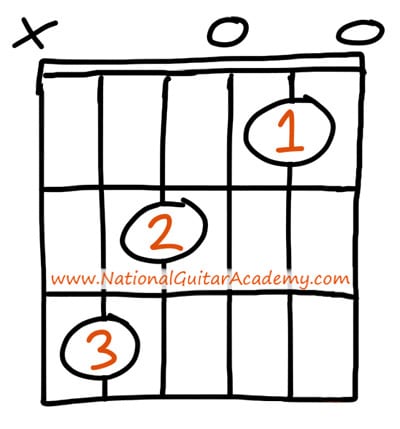 (If you don't understand the above image please read our article "How To Read Guitar Chordboxes In 60 Seconds". It will make everything clear!)
G MAJOR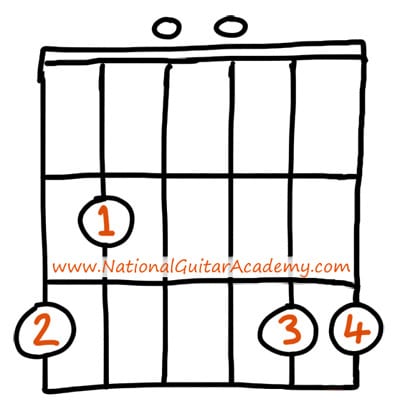 F MAJOR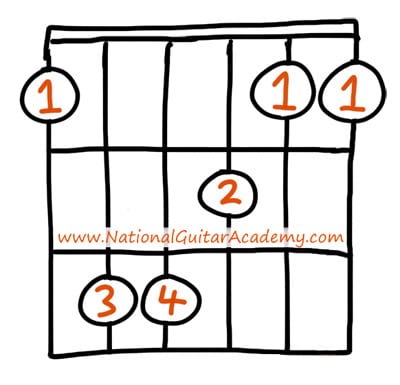 Pro Tip: It's always a good idea to practice chords in pairs. This way, we're able to make the transitions between them more seamless in the long run.
The C major and G major chords are easy enough to transition between. From C major, simply lead down from the D string to the low E string with your middle finger, and build the G major chord upward from there.
The F chord is of course a bit more difficult, but it proves to be a worthy challenge that makes us better at guitar on the whole. It will also make the rest of the Drops of Jupiter chords easier to play overall.
Use arpeggios to check your strings in the F chord to make sure they all ring out, and use your index to barre across all the strings.
Click here for a full lesson on the F major chord.
Let's take a peek at the other three Drops of Jupiter chords that we'll be faced with:
D major
D minor
Bb major
Much like the top set of chords, two of these are easier to play than the other one.
Have a look at the chord shapes below, then scroll down to learn how to properly attack barre chords.
Pro Tip: The longer you spend learning a chord, the more quickly you will become absolutely comfortable playing it in any context.
 D MAJOR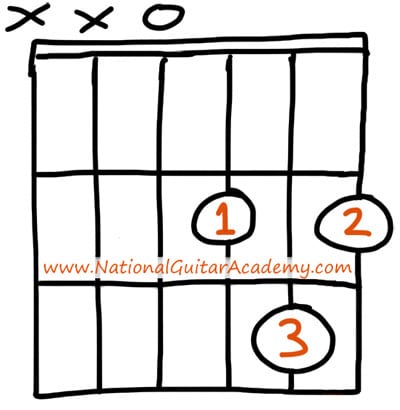 D MINOR
Bb MAJOR
Drops Of Jupiter Chords: Playing Barre Chords With Confidence
Practice makes perfect, as they say – but does perfect practice make a better perfect?
How easy or difficult the guitar is for us to play largely depends on our approach to the instrument.
Barre chords require two main components in order to truly master them:
Patience
Dedication
It sounds rudimentary, but it's true – you're going to need to be patient with these chords if you're going to master them.
Barre chords always start with our index finger, so it's important to give it the exercise it needs.
F MAJOR (FULL)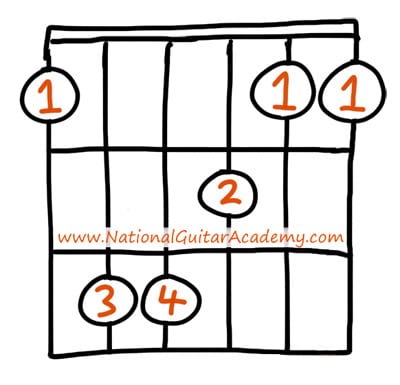 Bb MAJOR (FULL)
Pro Tip: If you're brand-new to barre chords and you want to master the Drops of Jupiter chords, try splitting the six-string barre chords into halves of three strings each.
This will help you tune up your index finger to handle more pressure on the guitar.
Ultimately, the goal is to play barre chords in a six string format, but it's totally okay if you need to use stepping-stone versions of these chords to start with.
Arpeggios will also help you immensely when it comes to sounding out these chord shapes with accuracy, so don't be afraid to take your time with these shapes.
Check out the stepping stone versions of these Drops of Jupiter chords below:
F MAJOR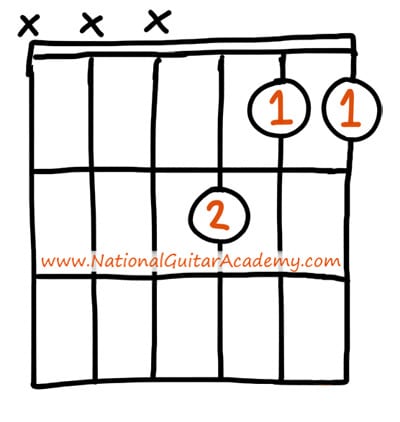 Bb MAJOR
Drops Of Jupiter Chords: The Progressions
The big advantage with this song is that the chords move relatively slowly for the most part.
We can take advantage of this to help us work on our chord transitions.
We can give each chord a solid count of four beats – make sure to count in eighth notes so that you can fit your strums in more evenly throughout the progression.
To start with, give these four chords a count of four beats a piece to play the intro:
C major // G major // F major // F major
This same arrangement of the Drops of Jupiter chords continues all the way through the verse with the same rhythm.
You'll notice the progression in the verse is fairly straightforward.
Let's take a look now at the chorus section of the song, with the Drops of Jupiter chords of this section listed below:
G major // D major // F major // C major // G major // D major // D minor // F major
Once again, we give four full beats (or eight eighth notes) to each of these chords (count 1 & 2 & 3 & 4 &).
Once we've cleared this section, we're going to play another run of the Drops of Jupiter chords from the verse and intro.
The last two sections that we need to cover are the bridge and outro. Let's dive into them below.
The bridge section's Drops of Jupiter chords go as follows:
C major // G major // F major // C major // G major // Bb major // F major
These sections may seem long, but by counting through each chord we can find a sense of timing and pacing that will work very well.
Finally, we come to the outro – chock full of "nah nah nah's" and more of the same chords we've been playing through already.
Check out the chord progression:
C major // G major // F major // F major
C major // G major // F major // F major
C major // G major // Bb major // F major
Pro Tip: The lyric "and are you lonely" lands on the Bb major in the last group of four chords.
Drops Of Jupiter Chords: The Strumming Pattern
You did it!
You played through all of the Drops of Jupiter chords in their respective orders in each section.
You've even overcome not one, but two barre chord shapes – look at you go!
Now it's time to look at the strumming pattern and put some rhythm into play. Ready?
Check out this strumming pattern below to accompany the Drops of Jupiter chords you've learned:
1       &       2       &       3       &       4       &
D               D                 D      U      D       U
This strumming pattern is both easy to play and suits the song perfectly, so you don't have to worry about complicating your strumming if you're just starting out.
Pro Tip: Counting out loud works wonders when it comes to learning new songs.
Why, you might wonder? Because it gives us a solid foundation to base our strumming off of, especially with beginner strumming patterns that land on specific beats that are easy to point out.
With that being said, counting out loud is one of the best things you can do to give yourself a better rhythmic frame of reference. Give it a shot!
This single strumming pattern applies to the Drops of Jupiter chords throughout the entire song, so you don't have to worry about switching rhythms at any point.
Now that we've covered all of the fundamentals, let's put everything together.
Download our lead guitar cheat-sheet to make things easier
It can be disorientating for guitarists to understand which scales work with which keys.
With this in mind, we created a cheat-sheet; a key and scale-finder that you can use again and again.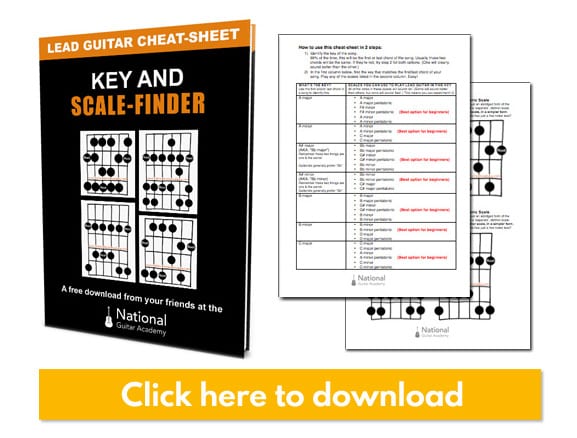 Drops Of Jupiter Chords: Putting It All Together
You've made it this far, so let's have a look at all of the sections of the song in order.
One of the hardest parts of any song is taking all of the individual pieces and putting them together.
Once we are able to visualize the song as one complete idea however, it becomes a lot easier to play.
Pro Tip: Playing section by section helps us learn the song's structure inside and out, making it easier to put all the Drops of Jupiter chords together once you've mastered them.
This works well for any song, not just this one!
Here are the sections of the song in order:
Intro
Verse
Chorus
Instrumental – C // G // F // F
Verse
Chorus
Instrumental – C // G // F // F
Bridge
Chorus
Outro
Pro Tip: If you're looking to really tighten up the way you approach the Drops of Jupiter chords, try singing the melody as you play.
Singing sounds daunting at first, but it by no means has to be pitch-perfect from the start.
Singing helps us train our ears to recognize notes more clearly.
The more you practice singing, the better you get at it; but your ears will also be able to pick out melodies more easily. Practice is the key!
Even if singing isn't your cup of tea, it's beneficial for your ears nevertheless.
Now, what about these chord transitions?
Drops Of Jupiter Chords: Performing Smooth Chord Transitions
If we're going to perfect our approach to this song, we need to iron out our chord transitions.
One of the biggest hacks for figuring out smooth chord transitions as a beginner is to look for similar notes between chords.
Another method is to look for where chords move to in order to make sense of the movement.
For example, the C note (3rd fret A string) in C major moves to a B on the A string (2nd fret) for the G major chord.
The G major root (3rd fret E string) moves down two frets to an F (1st fret E string), and so on.
Look for similarities between chord shapes to make movement easier!
C MAJOR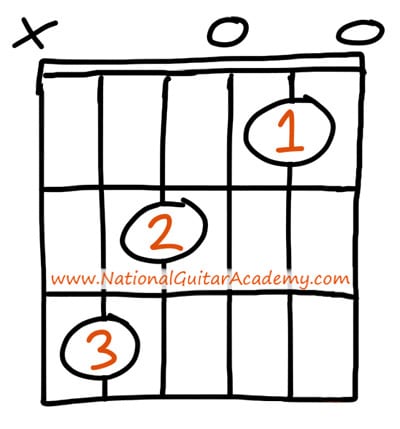 G MAJOR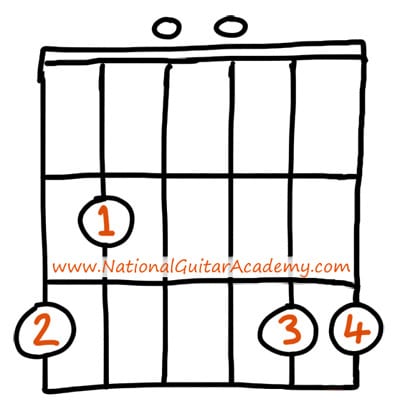 F MAJOR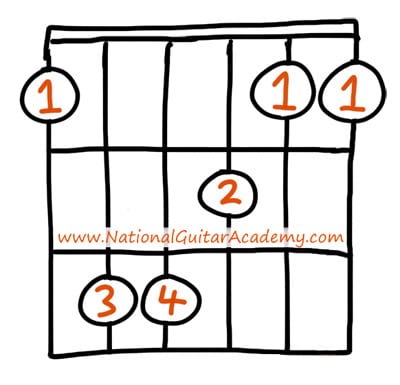 Pro Tip: Remember that all chords in the same key share similar notes. This makes understanding the movement between them a lot easier.
The more that we can deconstruct the shared notes between chords, the easier it becomes to visualize how we can intelligently move between them.
Music is very much a game of strategy, and these Drops of Jupiter chords are no exception to that rule – find the easiest and most efficient way to move between chords.
If you're finding one chord to be particularly difficult to move into or out of, take the extra time to practice it. Your hands and your ears will both thank you.
How To Improve On Playing This Song
Practising your chord transitions and your barre chords are the two key ways to master the Drops of Jupiter chords in full.
This is a magnificent tune worthy of all the praise that it's received over the years.
If you're still having trouble working through this song, we recommend a few of the following strategies:
Slow down! One of the leading causes of failure to execute on a chord is not taking it slow enough in the process of learning it. Slow and steady always wins the race.
Examine the problem areas of the chord and work on them. For example: are you constantly muting your G string? Rotate your wrist to open it up!
Recommended Resources
If you enjoyed this lesson on how to play the Drops of Jupiter chords, you'll love the other lessons we've got for you below:
What Type of Guitarist Are You?
Take our 60-second quiz & get your results: Take The Quiz
Want free guitar tips and video lessons delivered to your inbox?
Join over 100,000 other guitar learners and subscribe to our guitar-tips-by-email service. (It's free.)
We'll send you a series of lessons that will move you to the next level of your guitar journey.
Learn how everything fits together quickly, easily and effectively. We share ninja tips (for instant fun!) but also timeless fundamentals that will deepen your understanding.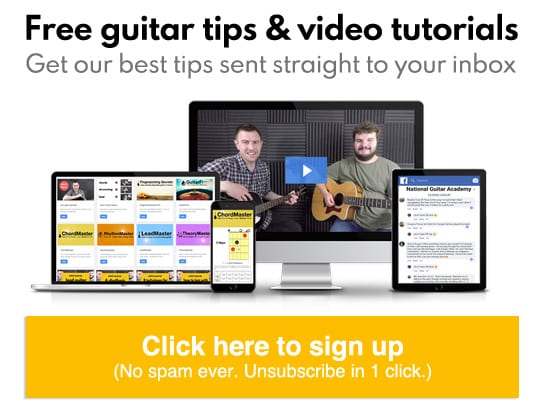 Popular Lessons
How To Learn Guitar: An 11-Step Programme For Beginners
How To Choose The Perfect Beginner Guitar
Guitar Notes Explained: A Guide For Beginners
More Cool Guitar Stuff
Learn about the National Guitar Academy: About Us
Visit our YouTube channel for fun guitar videos.
Join us on Facebook for daily guitar tips.
Listen to our Learn Guitar Podcast for rapid guitar progress.
Check out our free chord lessons.