Learning about guitar picks is important for beginners, so let's unpack the fundamentals!
Over 250,000 guitar-learners get our world-class guitar tips & tutorials sent straight to their inbox: Click here to join them
Join the world's best online guitar school 🌎
Get your own personalised guitar learning plan (customised just for YOU).
World-class online guitar courses. Learn at your own pace.
Community Campus & Learning Forum -  A friendly community of guitarists! Connect with our team & students. 😊
Beginner Song library with chordsheets, tabs and tips. (Songs suitable for all levels!)
Regular live streams, seminars and Q&A sessions - Learn from world-class guitar educators. Get all your questions answered!
Click here to learn more about National Guitar Academy membership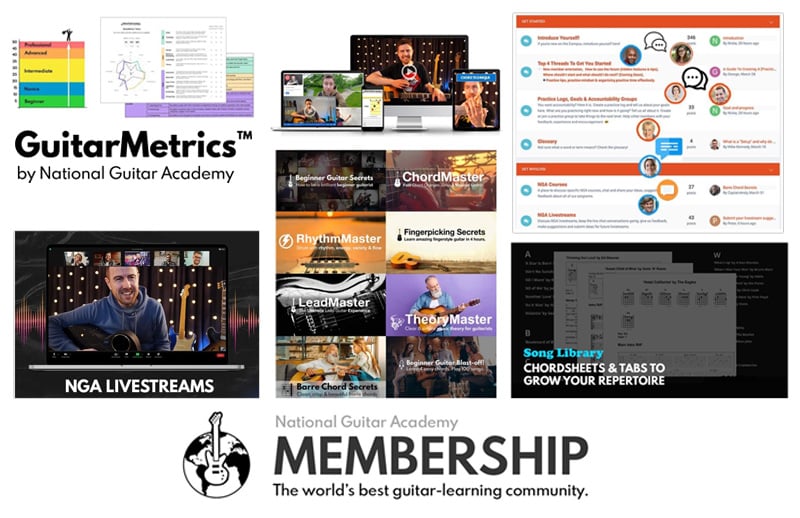 In this free lesson you will learn…
What the different types of guitar picks are
The different things to look out for in the perfect pick
How to identify whether or not a pick is working for you
How to avoid over-gripping and forearm cramps
Our personal recommendations for the best beginner guitar picks
Let's Take A Look At The Best Guitar Picks For Beginners (& Everyone Else Too)
So you're on the quest for the perfect guitar pick.
You want something that sounds fierce and brazen.
A plectrum that's got character.
You want a good pick that won't let you down, and that's what we're going to find in today's lesson.
Guitar picks for beginners are no different than guitar picks for expert players, but as beginners we need to learn what to look for before we can commit to just one pick.
The thought of only using one style of guitar pick might throw some beginner guitarists for a loop.
"Why use just one when I can play with all different types of picks?" you might say.
It has to do mainly with stability and consistency.
When we flip-flop between guitar picks for beginners that have a variety of thicknesses and consistencies, we aren't able to establish one solid approach to playing the guitar.
Every time you pick up a different pick, you'll find that your approach has to bend a little to accommodate that pick.
We want to avoid this whenever we can, but we also need to find out what works best for us individually.
So, let's ask another question…
What Makes A Good Guitar Pick?
We should start off by saying that a "good guitar pick" is different for everyone, and that these are our own thoughts on the matter.
With that being said, there are a few great principles that we can follow when looking for the best guitar picks for beginners.
Thickness
Pick thickness is probably one of the first factors to consider when choosing an ideal guitar pick.
Suitable guitar picks for beginners might start out as a bit thinner in their build, but many players often find themselves moving over to higher thicknesses as they get more confident on the instrument.
Flexibility
Thinner picks will be more flexible, but this isn't necessarily a good thing.
The more flexible a pick is, the more "give" it has. This means it won't cut through the strings the same way as a more firm pick might.
Suitable guitar picks for beginners may start out more flexible, but we think you'll find more confidence in a firmer guitar pick. We'll include some recommendations below.
Size
This is a key factor in finding suitable guitar picks for beginners.
Every player will want something a little bit different in terms of size, as everyone's hands are a bit different. This is where experimentation becomes super important!
Next, for the burning question that we know is on your mind.
Learn the 12 EASIEST beginner chords with our famous FREE guide
✓  Stop struggling. Start making music.
✓  Learn 12 beginner-friendly versions of every chord.
✓  This is our most popular guide and it will improve your chord ability quickly. 
Get your own personalised guitar-learning plan 🎸
Get a custom guitar-learning plan here: Click here for GuitarMetrics™
Should I Use A Different Pick For Different Applications?
You can, but you certainly don't need to.
Like we've mentioned above, it's important to find a suitable guitar pick for beginners that works in all applications as best you can.
The more we use a variety of picks, the more that we are forced to adapt to each of them.
When we find one suitable choice in the long list of guitar picks for beginners, we essentially stabilize our approach to playing guitar once and for all.
There is a downside to this, though. Let's talk about it below.
The downside to using one specific pick is that there isn't as much room for experimentation.
This isn't to say that you shouldn't try a variety of picks, just that you should make a decision at some point about what you like the most.
Selecting one style of pick as your main tool means you will get the chance to learn the ins-and-outs of how it functions in your hand.
Guitar picks for beginners may seem like a boring topic on the surface, but the right guitar pick can make a colossal difference in your playing over time.
Take the time to study your plectrum of choice and you'll find that you move more confidently over time with your guitar.
How Much Of A Difference Does Size Make?
Size definitely matters when it comes to the ideal guitar picks for beginners and advanced players alike.
The reason that it does is because everyone's hands are a different size.
Many "shredder" guitarists prefer a smaller plectrum, while many singer-songwriter types prefer a pick with a wider face on it for articulate strumming.
It largely comes down to what you like to play, and how you like to play it – but this is a question that can only be answered over time and with experience.
We recommend starting out with larger-faced guitar picks for beginners.
This is because a larger pick will give you more immediate string coverage. When it comes to learning how to articulate chords, a larger pick will help in huge amounts.
As you progress away from using guitar picks for beginners, you might find that you want a bit more clarity and articulation from your plectrum.
Pro Tip: As we've said, experimentation is important, but try to test plectrums against each other in pairs to find what you like best. This will make it easier to narrow your options.
So what about the different types of players, then? Do they use different picks?
Do Lead & Rhythm Guitarists Use Different Picks?
They very well might! It all depends on the player. Let's take this chance to break down some of the best uses for different types of guitar picks for beginners and advanced players alike.
Smaller plectrums like the Jim Dunlop Jazz III are great for players that are confident in their articulation, or want to work toward better articulation in their notes.
These are great guitar picks for beginners because they force us to choke up on our pick with our fingers, and pay better attention to where we place our pick.
For beginner players that are focusing on learning scales, these picks might be a very good fit.
Medium-sized picks like Ernie Ball's nylon picks will fit more comfortably in the hand of a beginner guitarist.
This size of plectrum is generally considered to be the best size for guitar picks for beginners, as your hands won't have to compensate for their size in any way.
If you want something with a bit more surface area, many companies make larger-sized plectrums – some of them even come in different shapes made for better grip in the hand.
For a larger pick with a bit more shape, we recommend trying out Fender's "355" series triangle picks.
These picks are made from celluloid and play very comfortably in the hand.
Pro Tip: Ask yourself how comfortable each pick makes you feel as you journey to find the perfect guitar picks for beginners like yourself.
Best Guitar Picks For Beginners – 5 Questions To Ask Your Pick
You read that heading right – it's time to have a serious conversation with your favourite collection of guitar picks.
If you've read this far into this lesson, odds are you've got your plectrum collection spilled out across your desk.
You're probably trying a few of them back-to-back to see what feels best, too.
If this is you, then you're already on the right track.
The most suitable guitar picks for beginners are the ones that feel and play the best for us as individuals, so pay attention to what feels good and what simply doesn't.
Am I "over-gripping" this pick?
This is a common problem that many players run into when searching for the best guitar picks for beginners.
Over-gripping happens when the pick is not a good fit for your hand. Try relaxing your grip.
If you find that the pick does not sit well with a relaxed grip, it's time to try something else.
Consider a thicker pick!
Does the pick slip around in between my fingers?
Some of us sweat when we play guitar. Some of us just have slippery fingers.
They're common problems that many of us can face, but we can consider using a pick with a grip on it to aid with this issue.
Remember, comfort and ease of use are key in finding the best guitar picks for beginners. 
Do I have enough of the pick to work with between my fingers?
Smaller picks can have their advantages, but they're certainly not for everyone.
It's important to have a good amount of plectrum to work with when considering the most ideal guitar picks for beginners. 
We want a bit more of the face of the pick so that we can focus on the accuracy in our playing. If you find that you miss strings often when practicing, consider a larger-sized pick.
Does my forearm cramp when I play guitar?
Over-gripping doesn't just present as pain in the hand. If your pick is not a good fit, you may find your forearm cramps because of the amount of force you need to use to get a good handle on it.
This is usually a good sign to rotate your main pick to something else.
Do I feel good playing with this pick?
The best guitar picks for beginners and intermediate players alike will feel like it isn't even in your hand.
The best pick should feel like an extension of your hand, rather than an object within your grasp.
This might sound far-off at first, but you'd be surprised at how easily the perfect guitar pick will integrate itself into your playing approach, then improve it altogether.
Pro Tip: The answer to this last question is the main reason why we go through the process of experimenting with different styles of guitar picks to find the perfect fit.
Download our lead guitar cheat-sheet to make things easier
It can be disorientating for guitarists to understand which scales work with which keys.
With this in mind, we created a cheat-sheet; a key and scale-finder that you can use again and again.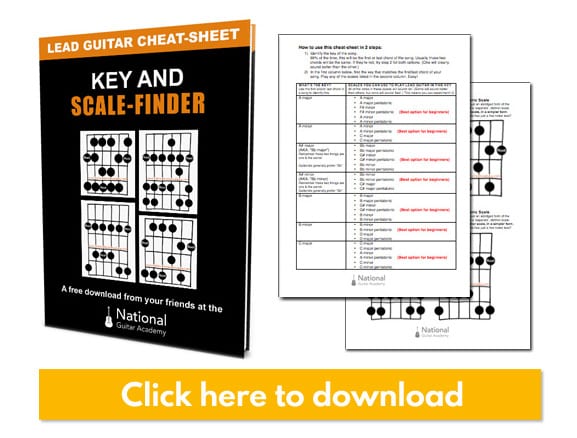 Best Guitar Picks For Beginners – Flat VS Tapered Picks
This isn't territory that every guitarist will tread into, but it's a good thing to know about either way.
Many guitarists will play their whole careers through with a flat pick, but there's a whole other world of experience to be had with a tapered guitar pick.
Flat picks lack the definition in 3-dimensions shape, but they provide a very reliable design with the way they fit in your hand.
Tapered picks have a lot more shape to them all around, and are thicker in their design by nature.
So what are the major differences? 
As you progress onward in your guitar journey, it's important to be mindful of how everything feels.
Flat picks are typically cheaper to buy and have great pick attack when they're thicker than 1mm.
The problem is that many of these picks are made from materials that wear quickly with excessive playing, losing their edge rather fast.
This is where guitar picks for beginners can lose their appeal.
Tapered picks are typically made from different materials than flat picks, giving them a more 3-dimensional shape in the hand and making it easier to have increased control over your picking.
For our students with arthritis or other conditions that affect their grip, we strongly recommend trying out a thicker, tapered guitar pick for easier grip.
Let's look below at some of our "top picks" for guitar picks for beginners that will last.
Our "Top Picks" For The Best Flat & Tapered Guitar Picks For Beginners
We couldn't wrap up this lesson without some recommendations for picks that will help you play more confidently. 
Once again, these are our personal selections – what works well for us may not work well for you so make sure to try plenty of different plectrums in order to find your preference.
Our picks for flat plectrums (thinner than 1.5mm): 
Fender 355 Triangular Celluloid Picks
Jim Dunlop Tortex Flex Jazz III
Scroll down to find our best picks for thicker and tapered guitar picks for beginners.
Our picks for thicker and/or tapered plectrums (1.5mm or thicker):
Gravity Guitar Picks "Edge" w/polished bevels
Pro Tip: Play a thicker pick alongside a thicker pick and point out the differences both in feeling and sound. We guarantee you'll be able to pick out plenty, and this will lead you to finding the ideal guitar picks for beginners that work best for you.
Which Of These Guitar Picks For Beginners Is Right For You?
Time and practice will tell the best, but experimentation is key! 
Try as many picks as you can, especially early on in your guitar journey. You'll be sure to find plenty of intricacies in each design that may appeal more or less to what you prefer in a guitar.
The best guitar picks for beginners are the ones that suit those beginners the best – and that's up to you!
Be free friends, and give in to the wonder of experimentation! 
Recommended Resources
If you enjoyed this lesson on finding the best guitar picks for beginners, you're going to want to check out what else we have for you below:
What Type of Guitarist Are You?
Take our 60-second quiz & get your results: Take The Quiz
Our guitar courses
Become a better guitarist: Click here for our guitar courses
Get your own personalised guitar-learning plan 🎸
Get a custom guitar-learning plan here: Click here for GuitarMetrics™
Cool Guitar T-shirts 😎
Look cooler! Check out our merch: Click here to see our merch store
Want free guitar tips and video lessons delivered to your inbox?
Join over 250,000 other guitar learners and subscribe to our guitar-tips-by-email service. (It's free.)
We'll send you a series of lessons that will move you to the next level of your guitar journey.
Learn how everything fits together quickly, easily and effectively. We share ninja tips (for instant fun!) but also timeless fundamentals that will deepen your understanding.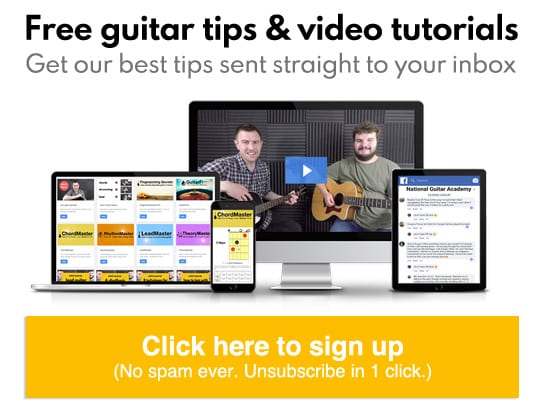 Get our best guitar tips & videos
Get our best guitar tips & videos