Music tabs are a great alternative to traditional notation – let's learn how to read them!
Over 250,000 guitar-learners get our world-class guitar tips & tutorials sent straight to their inbox: Click here to join them
In this free lesson you will learn…
How to read music tabs effectively
What the different symbols in tablature mean
The difference between tablature and traditional notation
Exercises for practising reading tablature
Let's Explore Music Tabs & How To Read Them
Learning to play the guitar is a process that takes time, and there are a lot of resources that help us get better at our craft.
One of the first things that many of us are exposed to as beginner guitarists is tablature, also referred to as "TAB".
Other names you might find for tablature include:
Guitar tabs
Music tabs
Guitar tablature
In this lesson, we're going to dive into how to learn tablature in an easy and effective way that will have you up and playing in no time.
Ready to dive in? Of course you are – let's go!
Why Do We Need To Learn To Read Music Tabs?
Technically, we don't – but it does help us avoid having to learn to read full musical notation when we're starting out. This is the main advantage of reading tablature.
In order to really wrap our heads (and hands) around this concept effectively, we're going to be looking at as many instances as possible of what tablature looks like, how you can read and interpret it, and how to know that what you're playing is accurate.
Music tabs do a bunch of things right when it comes to guitar, but there are also some things that they inherently lack – and that's ok!
Being able to understand what tablature offers us as beginner guitarists is important.
Download our lead guitar cheat-sheet to make things easier
It can be disorientating for guitarists to understand which scales work with which keys.

With this in mind, we created a cheat-sheet; a key and scale-finder that you can use again and again.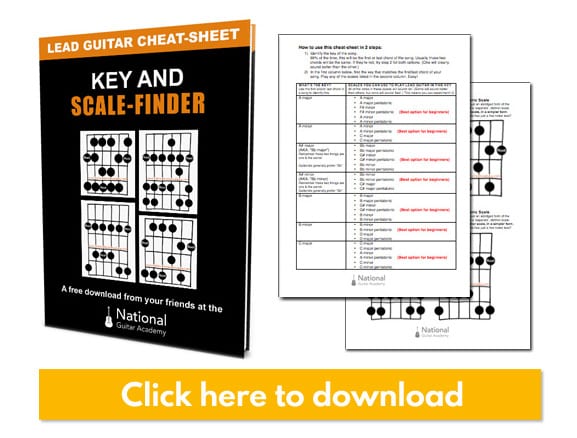 Get your own personalised guitar-learning plan 🎸
Get a custom guitar-learning plan here: Click here for GuitarMetrics™
To start off with, let's discuss what music tabs do, and what they don't do:
Music tabs will:
Show us what frets to play in order to play a song (both with chords and note progressions)
Show us what techniques to employ in order to play certain musical passages
Show us what strings to play on
Music tabs will not:
Teach us the appropriate timing and time-feel for a song
Teach us the actual notes that we are playing (A, Bb, C# etc)
Show us the correct rhythms to play
To clarify: Just because tablature has some inherent downsides to the way it communicates music does not mean you shouldn't bother with it – in fact, it's quite the opposite!
Let's discuss below by looking at the difference between music tabs & traditional notation.
What's The Difference? Music Tabs VS Traditional Notation
If you're a beginner at the guitar, you don't necessarily need to learn traditional notation.
Music tabs can take you far with your guitar tuition before you need to start learning how to sight-read.
Fun Fact: Many guitarists go their whole lives never having to learn to sight read traditional notation.
It's entirely up to you whether you decide to learn traditional notation or not, so don't feel pressured.
(It doesn't hurt though, either.)
Taking into consideration what we learned about music tabs above, let's compare them to notation so we can know the difference.
The first big difference between music tabs and notation is that we're required to listen to the song in question when we learn from tabs.
When we read musical notation, we can infer all of the performance details right off the page – but because tablature doesn't do this in the same way, we have to use our ears.
This is great though, because it induces a fair amount of ear training in the process.
Pro Tip: Using your ears is never, ever a bad thing. Often, once you start to get used to using your ears, you'll find that they will begin to guide you in the right direction more and more.
Another big difference between music tabs and notation is the way in which it instructs us on technique.
For beginner guitarists, we don't need to concern ourselves with performance prompts like "staccato" or "legato" when we're starting out.
We need to know what to play, and how to play it – that's it.
This is where music tabs shine for beginner guitarists – in their simplicity.
Where notation will tell you everything about a song, music tabs only tell you what you need to know.
This is what makes tablature such an accessible means of learning guitar – the fact that they're both simple and straightforward.
Now let's have a look at how to read them in the next section.
Understanding Music Tabs: Frets & Strings
Now that we know a bit more about tablature, we can begin to unpack it.
The first thing we need to know is how these music tabs are laid out.
Looking at tablature, we see that the guitar strings are laid out horizontally and look something similar to a musical staff.
Our strings are laid out with the thickest string (low E) on the bottom, and the thinnest string (high E) on top. Our string order looks like this:
High E
B
G
D
A
Low E
Pro Tip: If you turn your guitar over so the front faces you, you'll notice that the strings are laid out in the same way as they are above.
When it comes to the frets we play, those are displayed numerically on the string lines.
We read these notes in sequence, and we use our ears to discern exactly what is being played and when.
Pro Tip: It's difficult to read through a section of notes at the beginning, so make sure to take it slow and play note-by-note before attempting to put it all together.
Slow and steady does certainly win the race when it comes to learning to read music tabs at the beginning. The more we practice reading tablature, the easier it becomes.
There's more to it, though – how do we go about notating technique?
We're getting to that.
Understanding Music Tabs: Notating Technique
One of the most important parts of guitar playing is the technique we employ to help us sound our best.
Contrary to what the jazz heads will tell you, music tabs do a great job of telling us how to play a piece of music.
There are symbols for every form of technique you can play with on guitar.
Let's look at them now:
H = Hammer-On
P = Pull-Off
/ = Slide Up
\ = Slide Down
X = Mute String
P.M. = Palm Mute Strings
~~ = Vibrato
These symbols communicate our approach to lines of music quite clearly once we can learn to understand and identify them properly.
Understanding Music Tabs: Notating Chords VS Melodies
Notes that move in a line are to be played one-by-one, and notes that are stacked should be played as a chord.
Many times, the name of the chord will be written above the stack of notes to indicate which chord is being played.
Look out for these where you can in music tabs, as they will help you along significantly in terms of learning to name the chords you're playing.
Pro Tip: Even if you're just starting out, it's a good idea to work on naming the notes that you play as you play them.
This helps to develop better memory when it comes to what you're playing, and leads to easier navigation around the entire fretboard.
Check out the fretboard below:
"But how do I flip between playing notes and playing chords?"
With practice! All things become easier with time, and music tabs take time to adapt into our practice routine.
It's simply a matter of pulling up a favourite tune on your favourite search engine and starting to learn to play along.
As we've said above, it's important to start slow when learning to read music tabs effectively.
Practising note-by-note gives us a chance to work on our muscle memory so that the next time we go to practice, we'll remember everything a bit more clearly.
Rushing through learning tablature will only stifle our progress later on, so take your time!
Now, let's look at where we can find some quality tablature.
Learn 12 EASY beginner chords with our popular guide
✅  Stop struggling. Start making music.
✅  Learn beginner-friendly versions of every chord.
This is our most popular guide and it will improve your chord ability quickly! 😎
Get your own personalised guitar-learning plan 🎸
Get a custom guitar-learning plan here: Click here for GuitarMetrics™
Understanding Music Tabs: Programs & Resources
There are plenty of places on the internet where we can find tablature, but there's one key thing to look out for when you do:
Not all tabs are created equal!
Look out for tabs online that have high accuracy scores and ratings.
The guitar community is quite vocal online about inaccuracy in music tabs, so you shouldn't have too much problem finding something accurate to the song.
Tabs come in a few different forms in the online world, and we can even use software nowadays to help us read tablature more easily. Let's explore below!
"Are there any software options to help me read music tabs more effectively?"
Yes! Two that we recommend in particular.
Guitar Pro from Arobas Music is a fantastic (and extremely functional) tool that will not only play tablature for you, but slow it down and help you write your own as well.
Although it's a paid tool, it's extremely worth it as a resource for music tabs at any stage of guitar playing.
This remarkable piece of software has been around for years and is still being patched and improved upon today. We highly recommend you check it out.
Ultimate-guitar.com is a massive free online library of tablature from all sorts of different artists, popular and otherwise.
This library has been in existence for years and is seeing new additions every single day. No matter what artist you're looking for, UG will have something for you.
They also have an amazing app for your smartphone device so you can take your music tabs with you on the go!
Understanding Music Tabs: Putting The Info Together
Learning to read any form of music notation is a process, so don't rush it!
As with everything in music, practice will be the thing that unlocks your understanding.
Using your available resources is a great way to begin learning how to read music tabs, so start off by looking up your favourite song and learning a riff from it.
The more you practice, the easier it will be to read tablature fluently off the page.
Speaking of practice, let's dive into a four-bar passage you might have heard before and learn to play it!
If you haven't heard "Smoke On The Water" by Deep Purple before, click here to listen for the riff above (it's right at the beginning, you can't miss it).
The music tabs above for this riff are super straightforward and easy to play – simply use your index and middle finger to fret each combination of strings at each position.
Notice the use of muted notes in between the double-stops (two-string combinations) being played as well. Take some time to play this riff over and work it into your fingers!
It's important to make note that not all music tabs are this simple; some of them can be quite complex.
Let's have a look at some chords and arpeggios in the next example:
In this example, we see a C major chord outlined in the first two bars, and an A minor chord outlined in the third and fourth bars.
We start by playing the chord in full and then playing an arpeggio up and down the chord shape before playing it in full three more times. Repeat this for the A minor chord the same way.
Pro Tip: Most often, we won't see any time or rhythm indication in the music tabs we find online. These tabs were created in Guitar Pro, which gives us a small indication of time and rhythm in the tabs it creates.
Play a quarter note for each chord and an eighth note for each singular note in the arpeggio.
Count in eight notes by counting "1 & 2 & 3 & 4 &"
Here's one more example above to send you off using E minor and G major. Play these the same way you played the last example, and make sure to use alternate picking to make it smooth!
Practice Makes Perfect!
Learning to read music tabs is a timely but worthwhile process, so make sure to take the time that you need to understand the different symbols and what they represent.
Remember that it's just as important to be able to read tablature as it is to be able to play along with it.
Keep practising!
Recommended Resources
If you enjoyed this lesson on reading & understanding music tabs, you'll love these other great lessons we've got for you:
What Type of Guitarist Are You?
Take our 60-second quiz & get your results: Take The Quiz
Join the world's best online guitar school 🌎
Get your own personalised guitar learning plan (customised just for YOU).
World-class online guitar courses. Learn at your own pace.
Community Campus & Learning Forum -  A friendly community! Connect with our team & students. 😊
Beginner Song library with chordsheets, tabs and tips. (Songs suitable for all levels!)
Regular live streams, seminars and Q&A sessions - Learn from world-class guitar educators. Get all your questions answered!
Click here to learn more about National Guitar Academy membership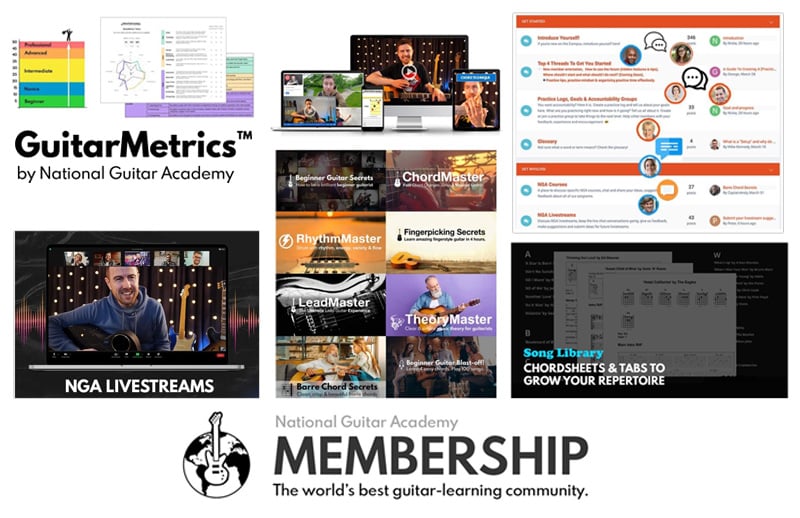 Cool Guitar T-shirts 😎
Look cooler! Check out our merch: Click here to see our merch store
Want free guitar tips and video lessons delivered to your inbox?
Join over 250,000 other guitar learners and subscribe to our guitar-tips-by-email service. (It's free.)
We'll send you a series of lessons that will move you to the next level of your guitar journey.
Learn how everything fits together quickly, easily and effectively. We share ninja tips (for instant fun!) but also timeless fundamentals that will deepen your understanding.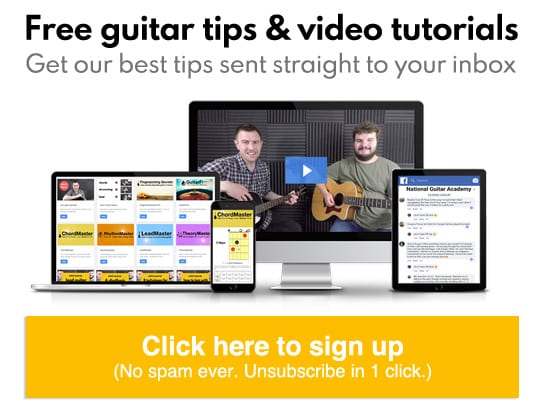 Get our best guitar tips & videos
Get our best guitar tips & videos