Learn to play Maroon 5's She Will Be Loved chords in this up-close and in-depth song lesson
Over 200,000 guitar-learners get our world-class guitar tips & tutorials sent straight to their inbox: Click here to join them
In this free lesson you will learn…
How to play "She Will Be Loved" by Maroon 5
Why simple chord progressions can teach us so much
Tips for making your chords ring out perfectly
Top tips for practising this song
Why practising slowly works wonders
Let's Learn How To Play Maroon 5's She Will Be Loved Chords
Are you a Maroon 5 fan? We sure are.
"She Will Be Loved" was a huge tune for Maroon 5 that helped shoot them to the top of the billboards and radio waves all around the world.
It's a great tune to be sure – well-written, well-structured with a great set of lyrics. It also follows their previous singles "This Love" and "Harder To Breathe," which topped the charts in their own right as well.
The She Will Be Loved chords are also super easy to play, so why not jump into the tune itself and learn it?
This is a wonderful tune for beginner guitarists that are looking to branch out with their guitar chords.
The She Will Be Loved chords are simple enough that even if you're just starting out, you can wrap your hands around them quite easily.
In this lesson, we're going to break down this song in full so that you can jam it whenever you want.
Before we get into it however, we're going to want to learn a bit about the band and the song itself.
Knowledge is power, so let's dive right in and learn about the She Will Be Loved chords in full.
A Brief History On The Song
Maroon 5 is a band that has been around for quite some time now.
Not only have they topped charts the world over, but they've collaborated with some other huge artists in the pop sphere.
The She Will Be Loved chords hit the charts in a big way in June of 2004 when the song was released (from the album "Songs About Jane").
By December of 2012, only eight years later the song had sold over 2,722,000 digital downloads. Insane!
An interesting point about this song was that it was left out of rotation by many rock and alternative stations, citing that it was "too light" for their audiences by comparison to their two previous hits.
While "This Love" and "Harder To Breathe" would continue playing on alternative stations everywhere, "She Will Be Loved" would continue its upward momentum on pop and adult contemporary radio stations.
Adam Levine's voice and the She Will Be Loved chords would soon capture the whole world's attention, regardless of the lack of support from previously adoring rock and alternative stations.
From here, there was nowhere for Maroon 5 to go but up – and up they went.
Maroon 5 would go on to be an absolute heartthrob pop rock band that would continue this momentum all the way into 2021 and onward.
The craziest part about this pop chart-smashing hit?
It only uses four chords. Let's look at them!
Learn the 12 EASIEST beginner chords with our famous FREE guide
✓  Stop struggling. Start making music.
✓  Learn 12 beginner-friendly versions of every chord.
✓  This is our most popular guide and it will improve your chord ability quickly.
What Are All Of The She Will Be Loved Chords?
If you came into this thinking this song would be easy, well you couldn't be more right.
It will take a bit of practice, but wrapping your hands around these chords isn't too difficult.
You're going to need a capo for this one, so make sure you've got one on hand.
Place your capo at the 3rd fret before you move forward so that you're playing in the right key.
The four chords we have to know for this song are:
A minor
G major
C major
F major 
Take a look at the first two chords:
A MINOR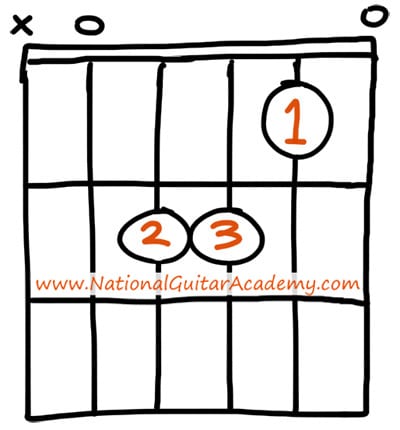 (If you don't understand the above image please read our article "How To Read Guitar Chordboxes In 60 Seconds". It will make everything clear!)
G MAJOR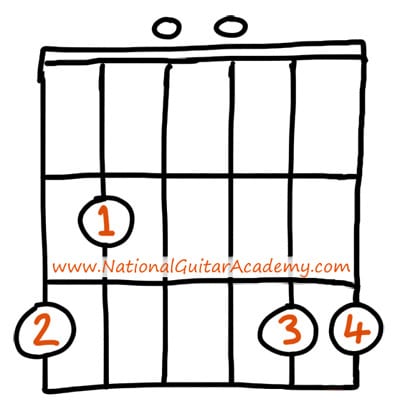 The A minor and G major chords are fairly easy to transition between if you know how.
Start by playing your A minor shape, then lead with your middle finger down to the 3rd fret on the low E string and build the G major chord upward from there.
Give this a shot and try moving back and forth between these two chords to get the feeling into your hands.
Pro Tip: We always recommend pairing off chords in a song before playing the song in full. Practising the She Will Be Loved chords two at a time means you'll have a better feel for the transitions between them. Put this into practice!
Let's take a look at the other two all-stars of this tune:
C MAJOR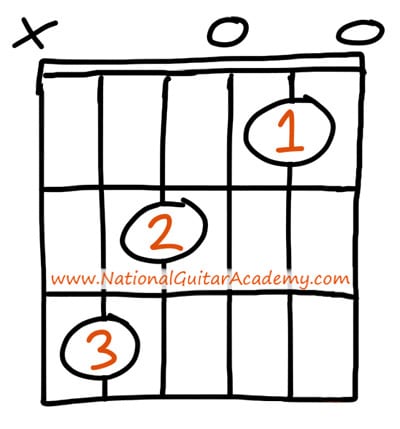 F MAJOR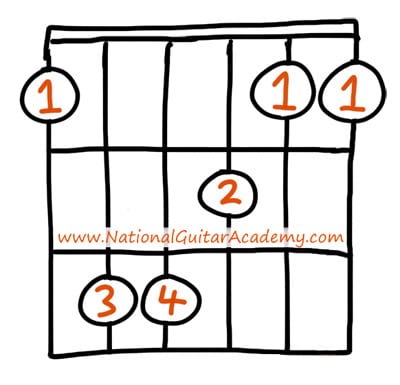 "Oh no! An F chord!"
Fear not, fellow strummer – we're here to assist to make these She Will Be Loved chords a breeze.
First, let's look at the C major chord shape. We can spread this chord out fairly easily from the A string to the high E with our first three fingers.
Pro Tip: Make sure to rotate your wrist to let all five notes ring out together. Use arpeggios to check that all of your notes are resonating.
Now, about that F chord.
If you're not ready to dive into barre chords just yet, click here for three easy alternatives to the F chord.
If you're feeling brave and ready to tackle barre chords, click here and let us help you through it.
F MAJOR (EASY)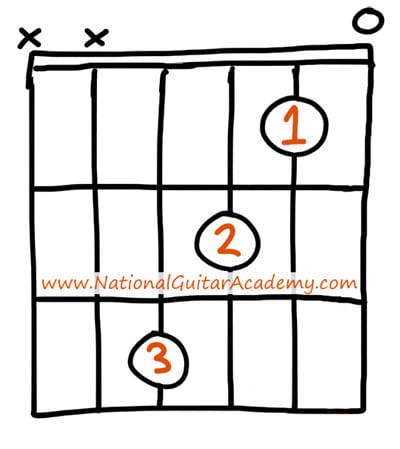 As we've done above with the first two chords, we should take some time now to pair these chords off together and practice transitions before we move forward.
Remember: Victory loves preparation.
The more time you spend practising these She Will Be Loved chords before you attack the full song, the easier the song will be!
At this point, you may have noticed that because of the capo, the chords do not sound the same as the chord shapes we've given you.
This is because of the capo, which you've no doubt figured out has created new note combinations out of the same shape in a different fret position.
Let's unpack that quickly before we attack this song.
Understanding How A Capo Works
The capo is an ingenious tool that was created to make our lives easier as guitarists, and it definitely does.
It can be a bit difficult to understand how it works (other than "magic"), but we can figure it out relatively easily.
A capo is made to increase the lowest pitch of the guitar by moving the "open position" away from the nut.
When we apply a capo to the fretboard, whatever fret it is placed on becomes our "0" position.
When we move this open position, we move to a different set of notes. This means the notes of our She Will Be Loved chords will change depending on the capo position.
Have a look at the fretboard map above and take a look at a few examples below.
The She Will Be Loved chords take place with the capo at the 3rd fret, so let's compare the open strings at the third fret versus the "true" open position.
| | |
| --- | --- |
| Open Position Notes (Low to High) | Third Fret Position Notes (Low to High) |
| E – A – D – G – B – E | G – C – F – Bb – D – G |
See how the notes are different? With this in mind, the notes of our chords (and the chords themselves) will be different also.
Although we can get by using the chord shapes we already know without figuring out what the chords translate to at the third fret, it helps to know them either way.
If we're going to "translate" the She Will Be Loved chords based on the capo position, our "true" chords will be as follows:
A minor = C minor
C major = Eb major
G major = Bb major
F major = Ab major
Make sense? Let's move on to how the She Will Be Loved chords work in their respective progressions.
She Will Be Loved Chords: The Progressions
The great news is that most of the chord progressions in this song require us to only play two chords at a time (which is why we had you rehearse them this way.)
We're going to start off with A minor and G major together.
Give each of these chords four beats at a time and play them back and forth starting on A minor twice through for the intro.
These two chords continue through the verse, and you can palm mute these She Will Be Loved chords at the bridge of your guitar if you want to add a bit more percussion and oomf to your playing.
These two chords will take you all the way to the first chorus.
As the chords move a bit more in the chorus, we've got the lyrics here for you so you can follow along more easily. Give each chord a count of four beats, the same way you did in the verse. 
C                                  G
I don't mind spending everyday
Am                                   G
Out on your corner in the pouring rain
C                                    G
Look for the girl with the broken smile
Am                                F
Ask her if she wants to stay awhile
              C         G
And she will be loved
              Am      F
And she will be loved
The final progression of the She Will Be Loved Chords that we need to learn is the bridge section.
Play the A minor and G major chords back and forth the way that you did in the verse until the last two lines of the bridge:
                          G                                 Am
I know that goodbye means nothing at all
                                               G                                     F
Comes back and begs me to catch her every time she falls… yeah 
See the F chord? This chord helps us turn back around melodically to the A minor chord before the break section:
Am                 G
Tap on my window knock on my door
 Am                    G
I want to make you feel beautiful
Once you've finished the break above, turn back around to the chorus!
She Will Be Loved Chords: The Outro Progression
This last little bit deserves its own mini-section worth of attention.
The outro does a great job of helping us practice our transitions between the She Will Be Loved chords, so don't ignore this section!
Check out the chord progression below for the outro:
C G Am G
C G Am F
See how we start on the C major chord this time instead of the A minor?
Give this progression a shot and work your way through it – it's worth it for the practice alone.
Pro Tip: Practice all of these She Will Be Loved chords slowly to get the most out of each of them, and pay attention to how they move melodically.
Now, let's talk about strumming patterns to go along with the She Will Be Loved chords we've learned.
Download our lead guitar cheat-sheet to make things easier
It can be disorientating for guitarists to understand which scales work with which keys.
With this in mind, we created a cheat-sheet; a key and scale-finder that you can use again and again.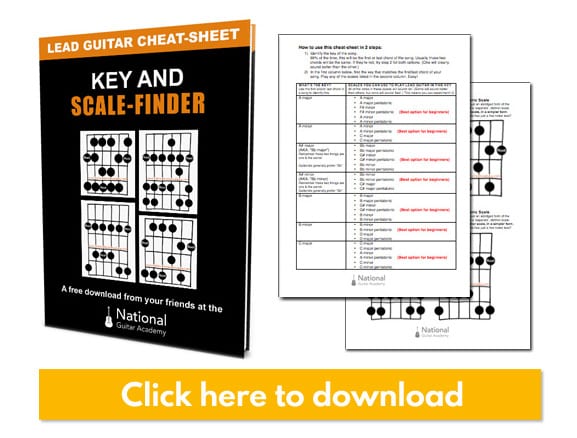 She Will Be Loved Chords: Strumming Patterns
It's all well and good to be able to play these chords fluidly, but we need to talk about rhythm.
The strumming pattern for this Maroon 5 tune is quite easy, so let's take a look at it up-close over a count of four beats:
1          2          3          4
D         D    U        D    U    D 
Do you see how we tend to play around the third and fourth beats?
Let's look at this strumming pattern again for the She Will Be Loved chords, but this time with eighth notes:
1     &     2      &      3     &      4     &
D           D      U             D     U     D 
See how some of the strums line up with the "&" counts?
As you can see, this song is best counted with eighth notes so that we can hear the strums line up more perfectly.
Counting in quarter notes helps if you're comfortable with it, but eighth notes will help us line up each strum over the She Will Be Loved chords perfectly.
So how are we feeling so far? We're just about done!
She Will Be Loved Chords: Putting It All Together
Now that we know how this song works, it's time to structure everything out so we can play along to the song.
Still got your capo at the third fret? Good. Let's jam!
Here is the overall structure of the song:
Intro
Verse
Chorus
Verse
Chorus
Bridge
Break
Chorus
Outro 
The She Will Be Loved chords flow effortlessly through each section, and that's due in large part to Maroon 5's pro-level songwriting.
The big lesson to be learned with this song is that sometimes, simplicity just works.
Pro Tip: It's important to practice your chords thoroughly as we've said. Due to this being a slower song, you can easily practice these chords with a metronome to help you tighten up your strumming and rhythm.
Don't be afraid to try a metronome out early on in your guitar journey – they're super beneficial, if not a little bit annoying.
If you don't have a metronome of your own, you can click here and find one for free on Google.
This little device is only ever beneficial to your guitar playing, and will help you to tighten up the way you play these She Will Be Loved chords.
How To Improve On This Song
Practice slowly, focus on the individual chords and play your transitions smoothly. 
Those are the three principles that we'd recommend you embrace in order to make the most of the She Will Be Loved chords as well as the song itself.
There's plenty to learn in this song, so take your time with it and uncover everything it has to teach you.
Every song has a lesson to take away from it – that's the beauty of music.
Maroon 5 did an amazing job writing and performing this tune, don't forget to have fun playing it!
Recommended Resources
If you loved this lesson on how to play Maroon 5's She Will Be Loved chords, you'll definitely enjoy the other song lessons we have for you below:
What Type of Guitarist Are You?
Take our 60-second quiz & get your results: Take The Quiz
Want free guitar tips and video lessons delivered to your inbox?
Join over 200,000 other guitar learners and subscribe to our guitar-tips-by-email service. (It's free.)
We'll send you a series of lessons that will move you to the next level of your guitar journey.
Learn how everything fits together quickly, easily and effectively. We share ninja tips (for instant fun!) but also timeless fundamentals that will deepen your understanding.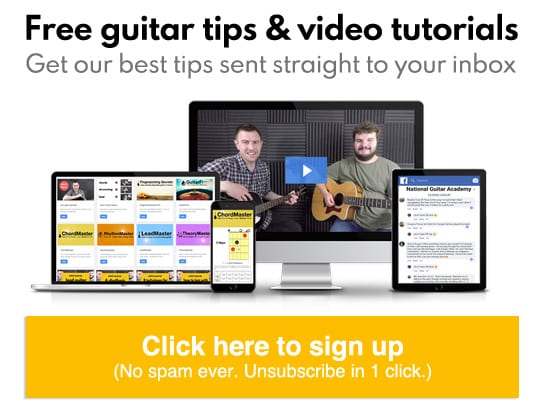 Popular Lessons
How To Learn Guitar: An 11-Step Programme For Beginners
How To Choose The Perfect Beginner Guitar
Guitar Notes Explained: A Guide For Beginners
More Cool Guitar Stuff
Learn about the National Guitar Academy: About Us
Visit our YouTube channel for fun guitar videos.
Join us on Facebook for daily guitar tips.
Listen to our Learn Guitar Podcast for rapid guitar progress.
Check out our free chord lessons.
Get our best guitar tips & videos
Get our best guitar tips & videos