Let's look at our top picks for the 15 best songs for guitar!
Over 100,000 guitar-learners get our world-class guitar tips & tutorials sent straight to their inbox: Click here to join them
In this free lesson you will learn…
15 tunes from beginner to (slightly) intermediate
Why each tune is important to learn
Tips for making playing easier in each song
Key learning points in each song to look out for
Let's Look At The Top 15 Songs For Guitar
As beginner guitarists, the songs and riffs we learn have to have two main components to them.
 They have to be:
Fun
Easy to play
In today's lesson, we're going to be tackling fifteen unique songs for guitar that fit that description perfectly.
As a plus, each song in this list comes with it's own lesson so you can see exactly how each song or riff should be played.
Many of these songs for guitar fit quite easily into any beginner songbook, and with visual guidance you should have no problem picking these up.
The first few will give you an easy lift-off with some simple riffs and chords, but we're going to step up the heat for you a bit later on as well.
What's The Benefit Of Learning These Particular Songs For Guitar?
We created this list in order to give you a practical set of tunes to learn.
As beginner guitarists, the best and most important thing that we can have is a constant stream of new things to practice that will push our fingers in different directions and open us up to the fretboard.
In this lesson, we're going to learn songs for guitar that will teach us about fretboard navigation, chords, alternate picking & more.
The songs you learn don't have to be overtly complex by any means, but this selection of songs should do a good job of teaching you some key fundamentals that will stick with you as you grow on guitar.
Here are a few pointers to remember before we get into it:
Take your time – Proper learning happens slowly and with plenty of repetition. Don't be afraid to pause at each section and drill the songs repeatedly to get them under your hands
Come back to the same songs often – Repeating riffs we know over time helps with muscle memory, and muscle memory makes playing the guitar easier.
Start building a book of songs for guitar that you know and love to play to help set new goals where learning them is concerned. Tracking your progress in a practice journal is a great way to see how far you've come in a short time!
Grab a notepad and your favourite guitar and get settled in to level-up your guitar game with these fifteen amazing tunes.
Learn the 12 EASIEST beginner chords with our famous FREE guide
✓  Stop struggling. Start making music.
✓  Learn 12 beginner-friendly versions of every chord.
✓  This is our most popular guide and it will improve your chord ability quickly.
Songs For Guitar #1: The White Stripes – "Seven Nation Army"
Jack White has long been a champion of the guitar, and is hailed by many as an incredible songwriter. 
He's no stranger to writing songs for guitar that contain infectious hooks and easy-to-play riffs, and "Seven Nation Army" by The White Stripes is no exception to this rule.
This song became arguably one of the most iconic "guitar songs" because of its main riff, which Jack is going to teach you how to play.
Pro Tip: It's easy to disregard your pinky finger in this tune, but try to incorporate it into your playing at the 10th fret in this progression. It will give your hand a good stretch!
Click here to check out the video lesson.
Click here for a full lesson on the whole song!
Songs For Guitar #2: Survivor – "Eye of the Tiger"
The classic tune from the Rocky movies is a great tune for any guitarist to pick up, especially in the early stages.
In this lesson, Jack shows you how to alternate pick your way through these licks like a champion.
Pro Tip: Alternate picking is a great way to develop mobility as a guitarist and get away from constant downstrokes. This is one of those songs for guitar that is super-easy to play, so use it as a practice ground for your alternate picking.
Pay close attention to Jack's picking hand for reference.
Click here to watch the video.
Songs For Guitar #3: The Rolling Stones – "Satisfaction"
Not only is Keith Richards basically immortal, he also writes amazing guitar riffs too!
The Stones are no strangers to riffs that get stuck in your head – and rightfully so, they're the Rolling Stones.
"Satisfaction" will be one of those songs for guitar that you come back to over and over again to jam on, and the best part is the primary riff is only three notes!
Pro Tip: Use this song as an opportunity to stretch that pinky finger out to the fifth fret in order to play this riff.
Don't neglect your ring and pinky by sliding around the fretboard with your index finger.
Click here for the riff lesson with Jack.
Click here for a full lesson on this song!
Songs For Guitar #4: Bob Marley – "Redemption Song"
When it comes to learning guitar, Bob Marley teaches us so much through his reggae stylings.
His slow, grooving rhythms teach us how to lock into a song with ease and confidence, and his melodies are easy and ear-catching to play.
We simply couldn't put together a proper list of effective beginner songs for guitar without mentioning Bob Marley
In this lesson, Jack focuses on "Redemption Song" and how to play the riff.
Click here for the video lesson.
Songs For Guitar #5: Johnny Cash – "Ring Of Fire"
Johnny Cash is another one of those need-to-know guitarists who will teach us years worth of lessons through his songs.
"Ring Of Fire" makes our list for the best songs for guitar on account of its strumming style and how practical it is for beginner guitarists.
The best part? You only need three chords to play it.
We've listed the chords for you below, but you're going to want the full lesson for this one.
Click here for a full lesson on how to play Johnny Cash's "Ring Of Fire" and step up your strumming.
G MAJOR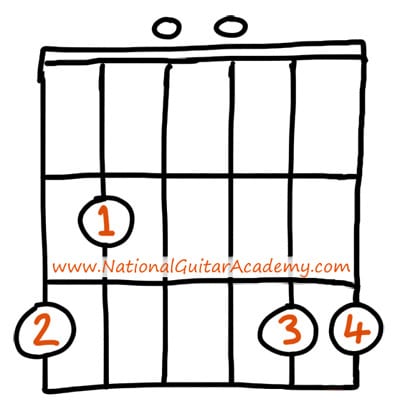 C MAJOR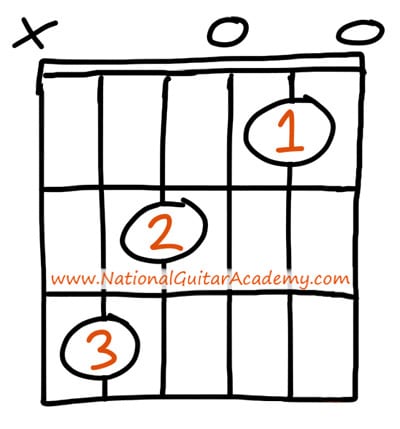 D MAJOR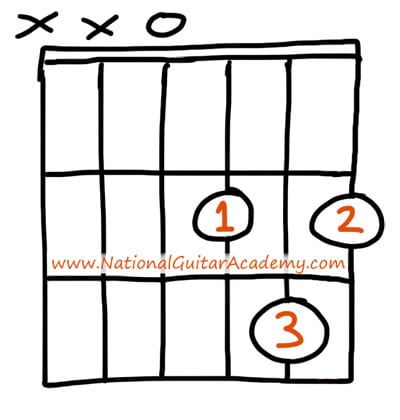 Songs For Guitar #6: The Beatles – "Let It Be"
Sadly, this was the last song that Paul McCartney wrote before his departure from the Beatles.
Easy to play and easy to remember, this is one that should be in every guitarist's songbook.
This song uses four chords:
G Major
D Major
E Minor
C Major
This is one of those songs for guitar that you will come back to often to strum on due to its simplicity. Remember to practice section by section in order to get the most out of this song.
Click here for the full lesson.
Songs For Guitar #7: CCR – "Bad Moon Rising"
Creedence Clearwater Revival are pioneers of the southern rock movement, and their tunes are unmistakable.
"Bad Moon Rising" uses only three chords and is a ton of fun to play.
Your chords for this song are:
D Major
A Major
G Major
What makes this one of the more fun songs for guitar is the pace of it. It's a real challenge to get the tempo and swing of the song down pat, but you'll have infinitely more fun with it once you do.
Pro Tip: Pay attention to how each chord gets twice as much playtime in the chorus as it does in the verse!
Click here for the full lesson.
Songs For Guitar #8: John Legend – "All Of Me"
Another champion songwriter, John Legend knows how to make a hit using only a few chords.
This song was played at more weddings than we can count, and rightfully so – it's beautiful.
Using only four chords, we can string this beautiful ballad together with ease.
Your chords are:
E Minor
C Major
G Major
D Major
Pro Tip: Take it slow with this song, and make sure to strum all the way through each chord to get that big, beautiful sound we're looking for. Ballad-style songs for guitar are meant to be played long and dramatically.
Click here to learn the song in full.
Songs For Guitar #9: Kansas – "Dust In The Wind"
Kansas is a wonderful band full of insanely talented musicians and a lead guitarist with an eye patch. That's about all you need to know.
On a serious note though, "Dust In The Wind" does a great job of teaching us the fundamentals of fingerpicking without overwhelming us as beginner guitarists.
This is one of those timeless songs for guitar that you'll want to jam over and over again, and thankfully we've got a full lesson on it for you.
You can strum through it if you want to, but you're probably going to want to put the pick down for this one.
Click here to learn how to play "Dust In The Wind."
Songs For Guitar #10: Leonard Cohen – "Hallelujah"
Another timeless ballad, this song helps us explore chord movement as beginners.
This song goes through quite a few small chord motions that make it tricky for beginners, but it's worth the learning curve to give your rhythm a good charge.
Pro Tip: Leonard Cohen's "Hallelujah" introduces us to 7th chords in the form of an easy-to-play B7. Keep your ears peeled for the distinct sound of it so you can look out for it in other songs for guitar in the future!
In this lesson, we teach you how to play this song in not one, but two different keys.
Depending on your vocal range, you may want to learn one or the other (or both!)
Click here for the full lesson.
#11 Radiohead – "Creep"
Hailed as an anthem of sorts for millennials, this dude hasn't aged a day since its release in 1993.
"Creep" is one of those songs you should know – it pops up a lot at jam sessions, and it's generally a song that most everyone seems to know the words to.
Whether you're keeping a songbook for yourself or for the next jam night, this is one of those songs for guitar that should definitely be in there.
We're going to take you through all the chords to this one, step by step.
Click here to learn "Creep" by Radiohead.
#12 Pink Floyd – "Wish You Were Here"
The riff in this song alone makes it worth learning.
Pink Floyd's campfire classic "Wish You Were Here" is just fun to play – plain and simple.
This song combines a killer riff with some strong and well-selected chords to give you a good mix of practice between playing melodies and chords.
An instant hit, but also an instant classic staple for guitarists too.
This is one of those songs for guitar that will make you not want to put your guitar down.
Click here to learn how to play it.
Download our lead guitar cheat-sheet to make things easier
It can be disorientating for guitarists to understand which scales work with which keys.
With this in mind, we created a cheat-sheet; a key and scale-finder that you can use again and again.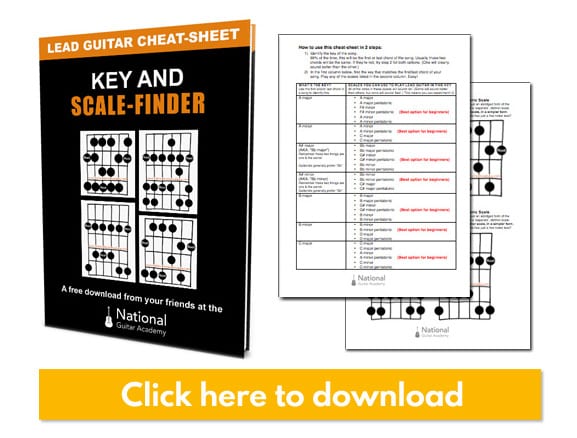 #13 Lynyrd Skynyrd – "Sweet Home Alabama"
Another southern rock classic, this tune helps us learn about breaking up chords to make riffs.
Lynyrd Skynyrd are kings of songs for guitar, and this tune is no different.
By breaking up some rudimentary chords, the band were able to not only write a song, but write an absolute smasher of a hit that would last for years to come.
In this lesson, we not only dive into how to play "Sweet Home Alabama" in full; but we give you some bonus tips to make it a bit easier too.
#14 The Temptations – "My Girl"
We need to hit the Motown circuit at least once before this list is over, and this is where we hit it.
The Temptations' hit song "My Girl" helps us learn to explore the sound and feel of a key change in action, and that's super important.
Key changes happen in almost every style of music, but it's important to learn how to listen for them and play into them with confidence apart from just following the chord changes.
Thankfully, this is one of those songs for guitar that teaches us an incredible amount just by playing it.
You're going to want to strap in for this one, it's a lot of fun to play
Click here to learn "My Girl."
#15 Frank Sinatra – "Fly Me To The Moon"
We had to end this list with a challenge, so why not dive into some jazz music with us?
Sinatra was an absolute King of a vocalist, but his bandmates were all just as talented (and they'd have to be to keep up with the likes of him!)
"Fly Me To The Moon" makes our list of the top 15 songs for guitar because it gives us an introduction to the jazz structure in a very easy-to-digest way.
In this lesson, you'll learn about the "ii-V-I" progression and how it works, as well as a slew of awesome chords.
Click here to learn to play "Fly Me To The Moon" by Frank Sinatra.
Want More Out Of These Tunes?
Practice is key!
It can definitely be said that you learn a little bit more about a song every time you play it, so it makes sense that these songs for guitar warrant repeated visitations.
Stick with them and practice until you're right inside the groove with the song itself, and you won't miss!
Recommended Resources
Did you enjoy this lesson?
We've got plenty more where that came from. Check out the links below for more from your friends at the National Guitar Academy:
What Type of Guitarist Are You?
Take our 60-second quiz & get your results: Take The Quiz
Want free guitar tips and video lessons delivered to your inbox?
Join over 100,000 other guitar learners and subscribe to our guitar-tips-by-email service. (It's free.)
We'll send you a series of lessons that will move you to the next level of your guitar journey.
Learn how everything fits together quickly, easily and effectively. We share ninja tips (for instant fun!) but also timeless fundamentals that will deepen your understanding.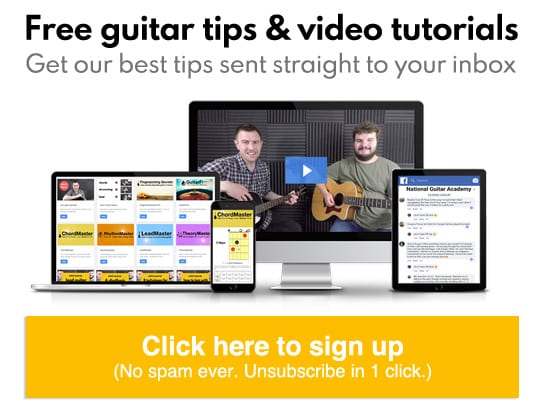 Popular Lessons
How To Learn Guitar: An 11-Step Programme For Beginners
How To Choose The Perfect Beginner Guitar
Guitar Notes Explained: A Guide For Beginners
More Cool Guitar Stuff
Learn about the National Guitar Academy: About Us
Visit our YouTube channel for fun guitar videos.
Join us on Facebook for daily guitar tips.
Listen to our Learn Guitar Podcast for rapid guitar progress.
Check out our free chord lessons.